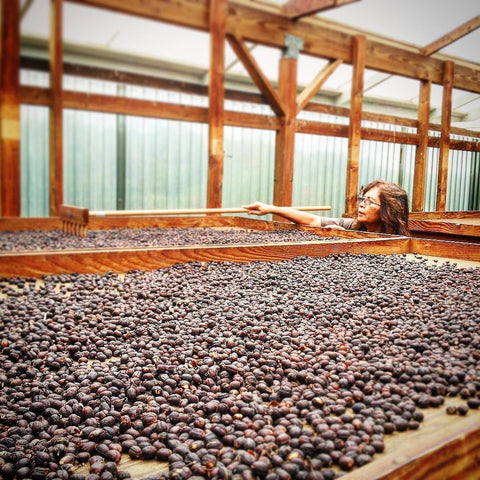 At some point, your life will fall apart. That's a universal truth. But so is this: Hope will show up when you need it.
And so it was for David Garza de Sanchez, @thegentlemanvegan on Instagram. When my mother met him years ago, he was a tourist interested in coffee. She showed him around the farm and mill. And she told him of my father's death, her grief, and the years it took to fulfill Dad's
dream: Craft Ka'u beans that would win international awards.

We didn't know how much that day meant to David. Last week, in Instagram posts featuring my mother, he wrote: "The Obra Family stood to gain nothing by welcoming me into their home and onto their farm. But they did it anyway. For a guy who was against the ropes battling alcohol dependency, Lorie taking an entire afternoon to show me around and teach me about coffee gave me a sense of self-worth I had been lacking for a while. I'll always remember that and I'm eternally grateful."

After I thanked him, David continued: "Love lost and lost loved ones took a toll on me. I knew I needed to change. Hearing your mother tell me about backing up the trailer and feeling your father's presence made me believe it would be okay for me too. I learned so much from your mother that day. I began to see a way forward that day. I didn't crave a drink that day.

 

🙏

"

I'm happy to say that David's life has improved so much since that moment. He allowed me to share this because some of you may need his encouragement. Just like he needed the optimism in Mom's story years ago.

Friends, whatever it is you're facing, never give up. Hope arrives in the small things: a farm tour, conversations over coffee, a little story online. Hope is all around you, waiting until you're ready to receive it.
~ Joan Obra

 

(

📸

: 
David Garza de Sanchez

)